In today's intense digital age, Facebook has evolved from merely a platform for communication and connection to a potential marketplace. For businesses aiming to harness the maximum benefits from Facebook, selecting the right marketing tool becomes crucial. FPlus is not just a newcomer in this domain but is also one of the software that the business community rates highly in terms of efficiency and reliability. To delve deeper into FPlus and its associated costs, let's explore the content below.
Introduction to FPlus
What is FPlus?
In today's digital age, Facebook has become a significant playground for businesses and marketers. To optimize marketing strategies on this platform, the use of professional support tools becomes necessary. Meeting this need, FPlus emerges as an optimal choice for those marketing on Facebook.
Developed and copyrighted by Plus24h, a reputable entity in the technology solution and marketing software provision, FPlus brings a revolution with nearly 100 utility functions, automating activities on Facebook. Notably, FPlus doesn't limit accounts, opening up diverse advertising and interaction capabilities suitable for various business objectives.
What distinguishes FPlus isn't just the number of functions, but also the quality of service. The software is specially designed for e-commerce business clients and individuals, addressing real needs and yielding high effectiveness. The warm reception from the community proves that FPlus is not just a supportive tool, but also a reliable partner for any Facebook marketing campaign.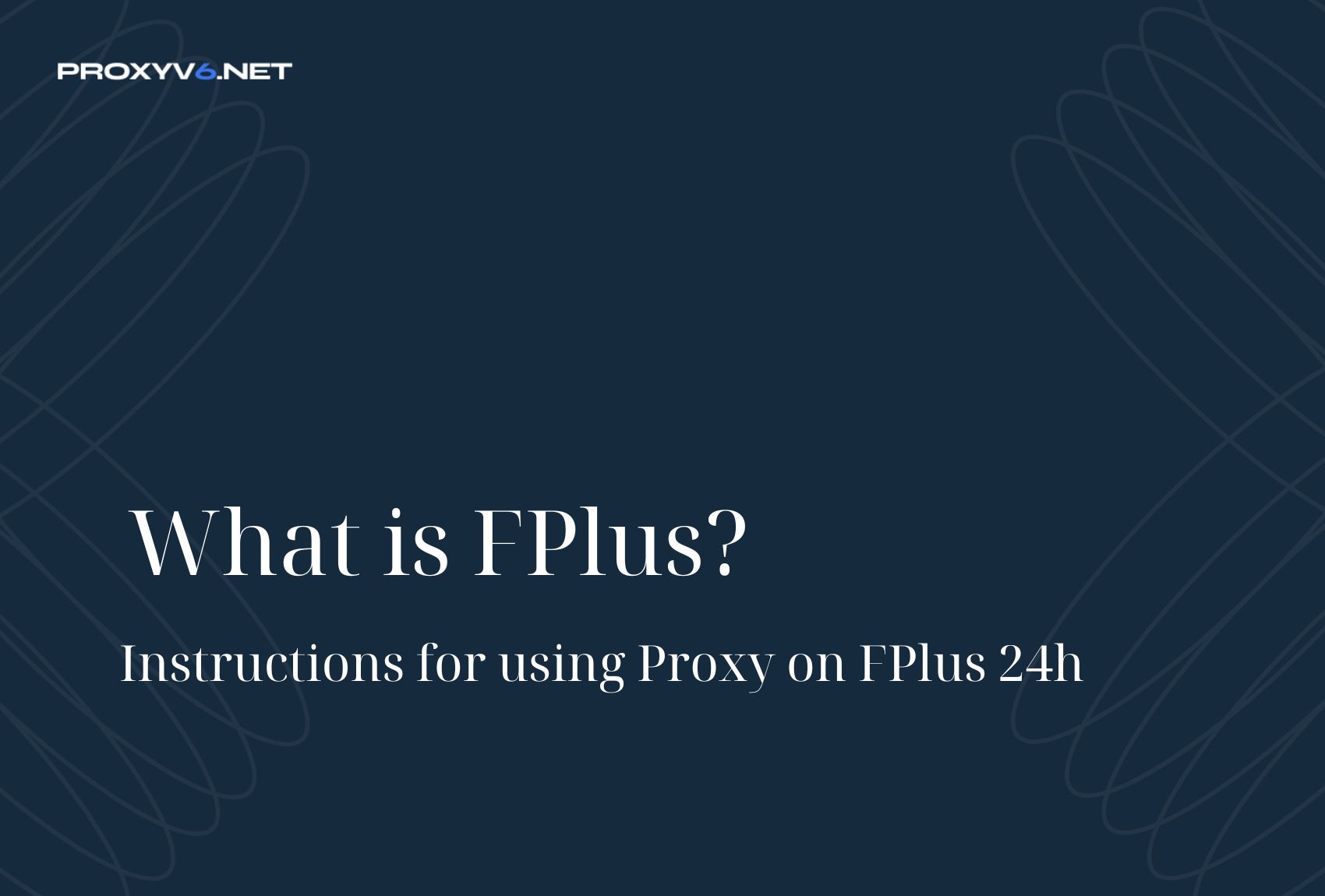 Buy cheap proxies at proxyv4.net
Outstanding Features of FPlus
Facebook, familiar to all of us, has become more diverse and complicated than ever. To optimize advertising and interaction, FPlus was born with a myriad of unique features. Below, we'll highlight the significant functions of FPlus from an expert's perspective:
Content and Interaction Management
FPlus provides the ability to post and share content on groups, personal walls, or business pages flexibly. Beyond mere text, users can post albums, videos, and even directly list products in sales groups. This tool also supports posting via API, facilitating businesses in sharing images, statuses, or videos from other data sources.
Managing Relationships on Facebook
Further exploration reveals FPlus's potential in optimizing your relationship management on Facebook. Features such as automatically accepting friend requests, canceling sent requests, or even scanning emails from comments enable you to maintain and expand your relationship network effectively.
Optimizing Your Business Page
For businesses, FPlus offers a perfect solution for advertising and boosting interaction. The "Comment like seeding" feature allows your page to interact automatically, enhancing trust and engagement with customers. FPlus also helps invite friends to join your group or page, expanding its online presence.
Smart Multi-Account Management
A unique point of FPlus is its ability to manage multiple accounts, not just on the Chrome browser but also on Android emulators like NoxPlayer or LDPlayer. This enables you to manage various Facebook accounts effectively, from befriending, posting, commenting to joining groups.
Using Proxy on FPlus 24h
We know that when using multiple accounts on an app, frequently changing IP through Proxy enhances security and avoids the risk of account suspension. FPlus 24h has integrated this feature, and the following will guide you on its professional implementation.
Method 1: Set up Proxy for each individual account
Step 1: Open the "Facebook login" tab. Here, you'll see a list of added Facebook accounts. Select the account you want to set up, right-click and choose "Edit Proxy Ssh".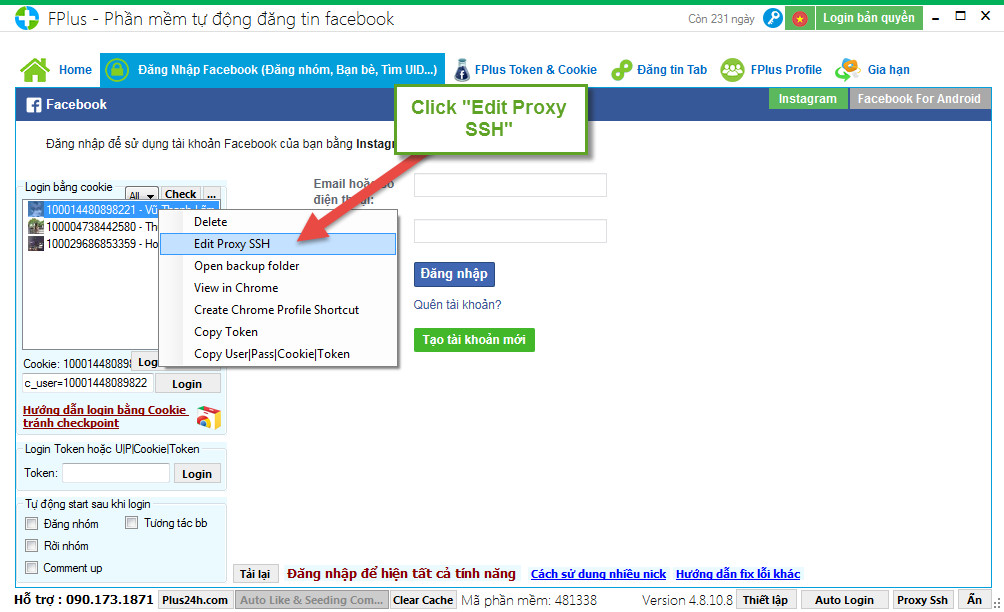 Step 2: A new window will appear, prompting you to enter Proxy information. Fill in the fields (IP: Port: User: Pass) and click "Confirm".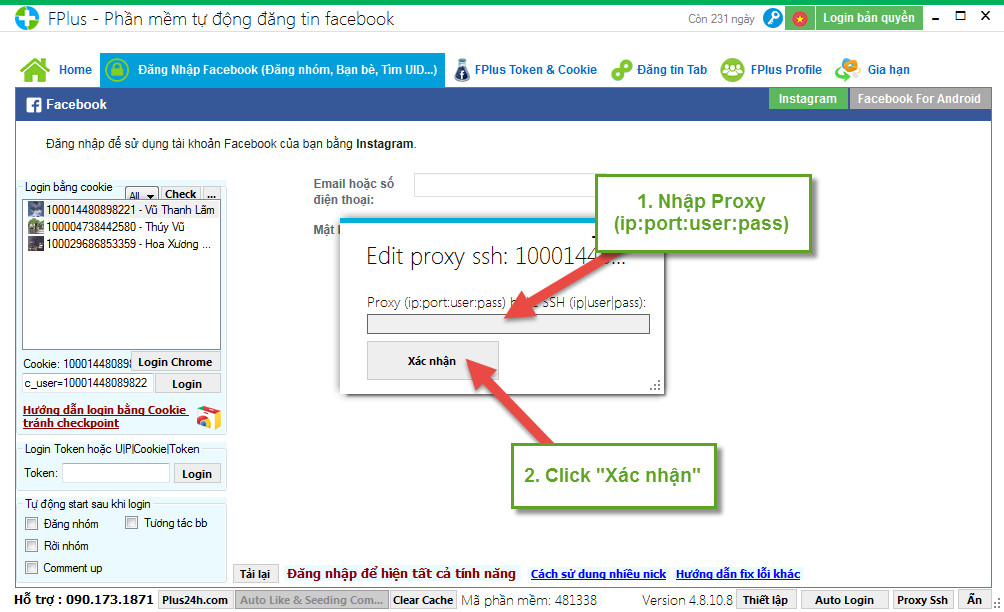 Method 2: Use the "Auto Login" feature to set up Proxy
Step 1: Select "Auto Login" at the bottom of the main software interface.

Step 2: Choose the account you want to set up, right-click and select "Edit Proxy Ssh". Proceed to fill in the information and click "Confirm".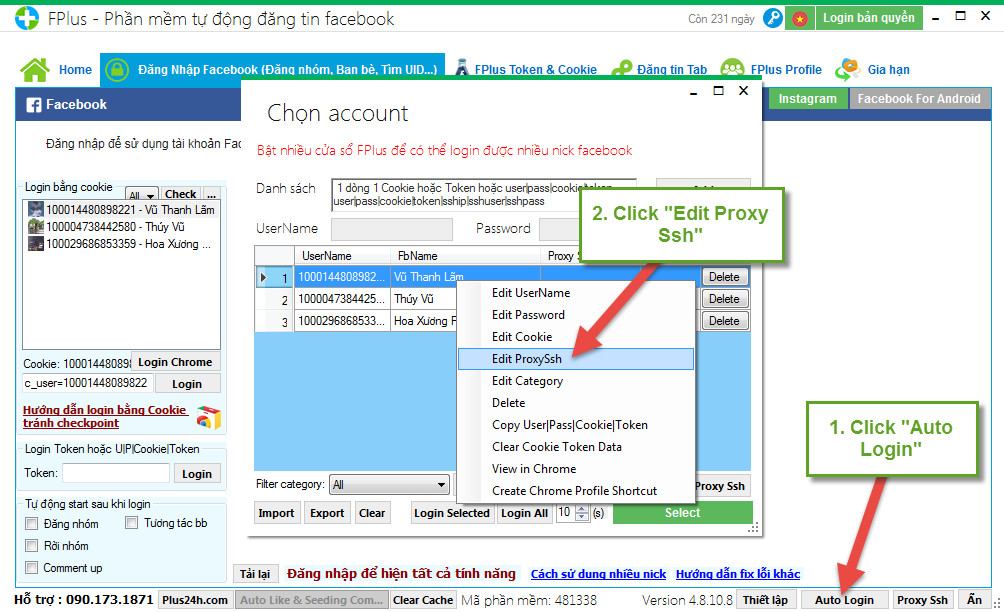 Method 3: Set up Proxy for multiple accounts simultaneously
Step 1: Select "Import Proxy Ssh".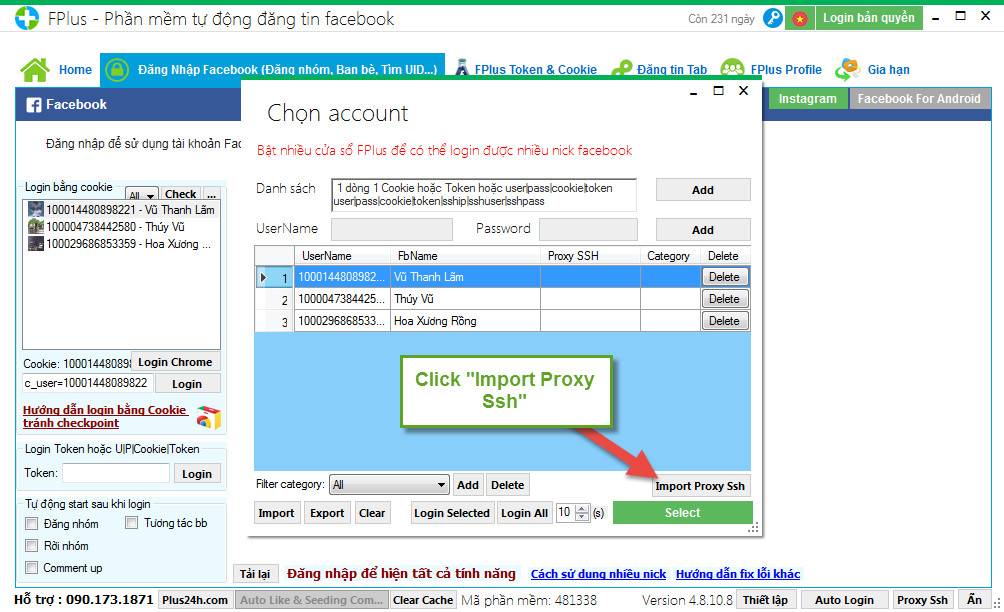 Step 2: In the new window, input the list of Proxies in the required format (IP:Port) or (IP:Port:User:Pass). To check if the Proxy is still active, press "Check live".

Step 3: Choose the number of accounts you want to use with a single Proxy. Once set up, click "Import".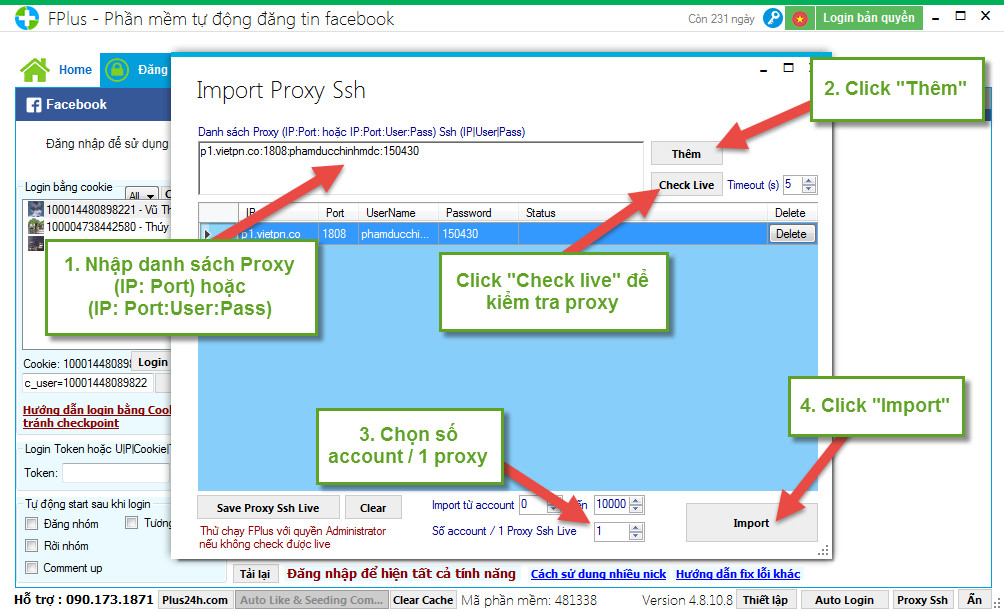 In the current digital age, possessing a quality proxy is paramount. Whether you're a large enterprise or an individual wanting to protect online information, proxies play an indispensable role. Speaking of reliable, cost-effective proxy services, Proxyv6.net cannot be overlooked.
With years of experience in providing proxies, Proxyv6.net proudly delivers high-quality service at very competitive prices. Specially designed to cater to all client needs, from anonymous web surfing, application development, or even online gaming, Proxyv6.net's proxies always ensure high speed and great stability.
For businesses, choosing to purchase proxies at Proxyv6.net not only significantly saves costs but also enhances security and work performance. Don't miss out on this top-tier service experience. Invest once, benefit for a lifetime. Visit Proxyv6.net today for more details and special offers!