In today's digital landscape, where concerns about online privacy and security loom large, Virtual Private Networks (VPNs) have emerged as crucial tools for internet users. Among the myriad VPN options available, TunnelBear has carved a niche for itself. This comprehensive guide will explore the intricacies of TunnelBear VPN, shedding light on its features, performance, and addressing the pivotal question  Is it advisable to use a VPN to fake your IP address?
What is TunnelBear VPN?
TunnelBear stands as a VPN service owned by McAfee, headquartered in Toronto, Canada. Its distinctive bear-themed interface not only reflects a playful design ethos but also underscores a commitment to simplicity combined with robust features. Boasting a network of over 5000 servers across 47+ countries, TunnelBear has adapted over the years to stay competitive in the ever-evolving VPN market.
| | |
| --- | --- |
| Location | Canada |
| Pricing | Free – Starting from $3.33 per month |
| Speed | 183 Mb/s |
| Logs | Non-identifiable |
| Supported Platforms | Android iOS Windows Mac Chrome Firefox Opera |
| Key Features | Kill switch, Obfsproxy, Split-tunneling, Ad blocker, Anti-tracking |
| Compatibility with Streaming Services | Netflix, Hulu, Amazon Prime, Mobile apps |
| Torrents | Allowed |
| Maximum Connections | 5 |
| Free Trial | Yes |
| Refunds | Case-by-case basis |
| Customer Support | Email, Chatbot |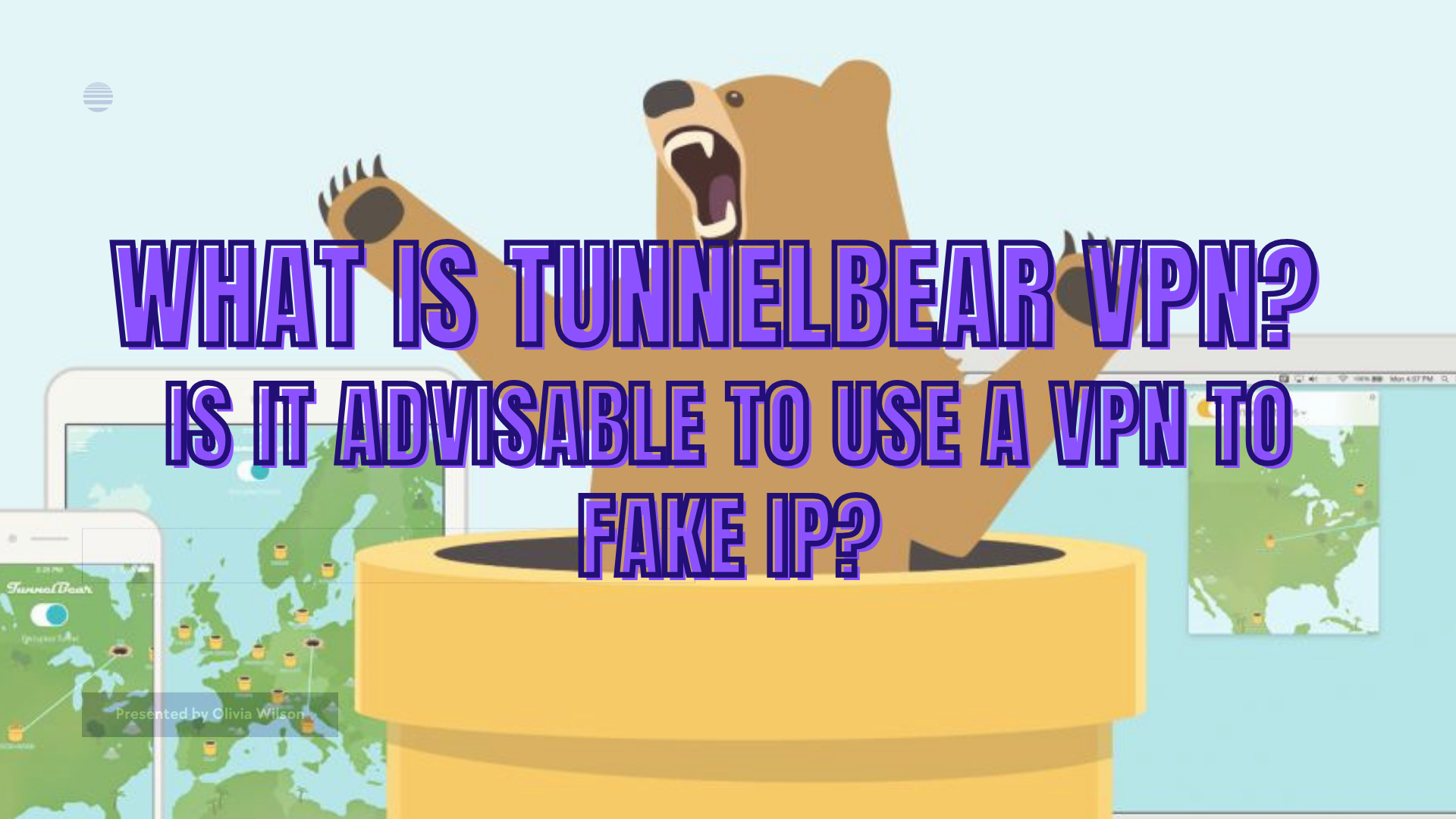 Outstanding Features of TunnelBear VPN
TunnelBear VPN boasts several key features that contribute to its unique offering in the competitive VPN market. Here are some of the standout features that define TunnelBear
User-Friendly Interface 
TunnelBear is renowned for its intuitive and user-friendly interface. The main interface resembles a world map, simplifying the server selection process.
Distinctive Design 
The service adopts a playful and distinctive bear-themed design, setting it apart from more conventional VPN interfaces. This design adds a lighthearted touch to the overall user experience.
VigilantBear (Kill Switch) 
TunnelBear incorporates a kill switch feature called "VigilantBear." This feature blocks all incoming and outgoing traffic in the event of a VPN disconnection, ensuring data security.
GhostBear 
The "GhostBear" feature is designed to make VPN traffic less detectable. By masking VPN traffic as HTTPS, it aims to circumvent censorship and restrictions, making it particularly useful for accessing blocked content.
SplitBear (Split-Tunneling) 
TunnelBear offers a feature known as "SplitBear," its version of split-tunneling. This feature allows users to control which apps or websites utilize the VPN connection, providing a more customized online experience.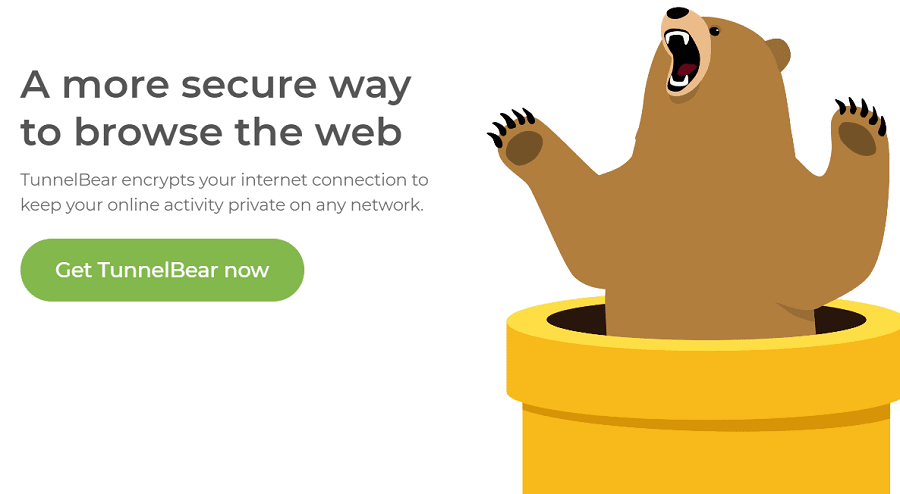 Security Protocols 
The service employs robust security measures, including AES-256 encryption, which is considered the industry standard for secure data transmission.
Server Network 
TunnelBear operates a network of over 5000 servers across 47+ countries. While not as extensive as some competitors, it provides a diverse range of server locations for users.
Device Compatibility 
TunnelBear offers desktop applications for both Mac and Windows, as well as mobile apps for Android and iOS. Additionally, there are proxy browser extensions for Chrome and Opera.
Unlimited Device Connections 
With its premium plans, TunnelBear recently transitioned to allowing unlimited simultaneous device connections. This is a noteworthy feature for users with multiple devices.
Free Service with Data Limit 
TunnelBear provides a free service that includes the full desktop app. However, it comes with a 500MB-per-month data limit, making it suitable for testing the service but less practical for regular use.
Regular Third-Party Audits 
TunnelBear demonstrates a commitment to transparency and privacy by undergoing regular third-party audits conducted by Cure53, a reputable auditing firm. This helps build trust among privacy-conscious users.
Privacy Policy 
TunnelBear's privacy policy emphasizes the non-collection of sensitive user data, such as DNS queries, IP addresses, and personally identifiable information related to VPN usage. Operational data collected is specified not to compromise user privacy
How much does TunnelBear VPN cost?
TunnelBear's pricing structure is straightforward and offers flexibility with multiple plan options. You can choose from one to three years or opt for a monthly plan, making it convenient for users with varying preferences. The most cost-effective choice is the three-year package, priced at an affordable $3.33 per month, providing significant savings of 67%.
Here's a breakdown of TunnelBear's pricing plans:
3 years: $3.33 per month (Save 67%) – Total: $120
2 years: $4.17 per month (Save 58%) – Total: $99.99 (one-time upfront fee)
1 year: $4.99 per month (Save 50%) – Total: $59.88
1 month: $9.99

Free Trial
TunnelBear provides a free trial with 500MB of data, allowing users to test the VPN without the need for credit card details. While the data limit may be insufficient for regular use, it serves as an excellent opportunity to experience TunnelBear's VPN features and security without any other restrictions.
Coupon and Discounts
TunnelBear does not typically offer coupon codes. Instead, users can secure substantial discounts by subscribing to longer-term plans. The three-year plan, in particular, automatically applies a generous 67% discount, with no need for a promo code.
Accepted Payment Methods
TunnelBear supports two payment methods—Credit Card and BitPay. For those inclined towards cryptocurrency, BitPay enables payments using Bitcoin.
Refund Policy
TunnelBear's refund policy is case-specific. The provider states that refunds are considered on an individual basis: "TunnelBear may offer refunds on a case-by-case basis. If you are unsatisfied with your purchase for any reason, you can request a refund by contacting our friendly Support Bears."
While this approach may seem flexible, it aligns with the provision of a legitimate free trial, allowing users to experience the service before making a commitment. To truly gauge TunnelBear's compatibility, utilizing the free trial is recommended.
Should you use TunnelBear VPN or not?
Let's check the table of advantages and disadvantages of TunnelBear below to decide whether you should use this VPN application or not:
Pros
Cons
Fast OpenVPN speeds
Limited service menu
Very easy-to-use apps
Vague refund policy
Strong encryption & no leaks
Doesn't work on routers
No identifiable logs
Works in China
Allows torrenting
Great browser extensions
Ad blocker & anti-tracking tools
Free 500MB of data per month
At Proxyv6.net, users can access a reliable and cost-effective solution for obtaining cheap proxies. Whether for personal use or business needs, Proxyv6.net offers a range of affordable proxy options that cater to various requirements.
The platform emphasizes both reliability and affordability, making it a go-to source for individuals and businesses seeking cost-efficient proxy solutions. With Proxyv6.net, users can confidently secure proxies at competitive prices, ensuring a seamless and budget-friendly experience for their proxy-related needs.