In today's digital world, proxy services have become an essential part of protecting privacy and ensuring stability for online activities. Plain Proxy, a relatively new proxy service in the market, is gaining popularity with high-speed connections, stable performance, and affordable pricing. In this article, we will explore Plain Proxy and assess its pricing and features.
What is Plain Proxy?
Plain Proxy is a relatively "young" proxy rental service. The company is based in Germany and was established in 2022. According to their official website, Plain Proxy focuses on providing services such as renting IPv4 proxies, IPv6 proxies, and Serp API.
Regarding proxy servers, this service offers over 100 proxy server locations in more than 50 countries across Europe, Asia, the Americas, and Oceania. Most of their servers are located in European countries, which is reasonable as the company was founded in Germany.
Despite its short time in operation, the company has become popular due to its premium service quality, especially for customers in European countries. Currently, on Trustpilot, Plain Proxies is rated 4.4 stars for service quality.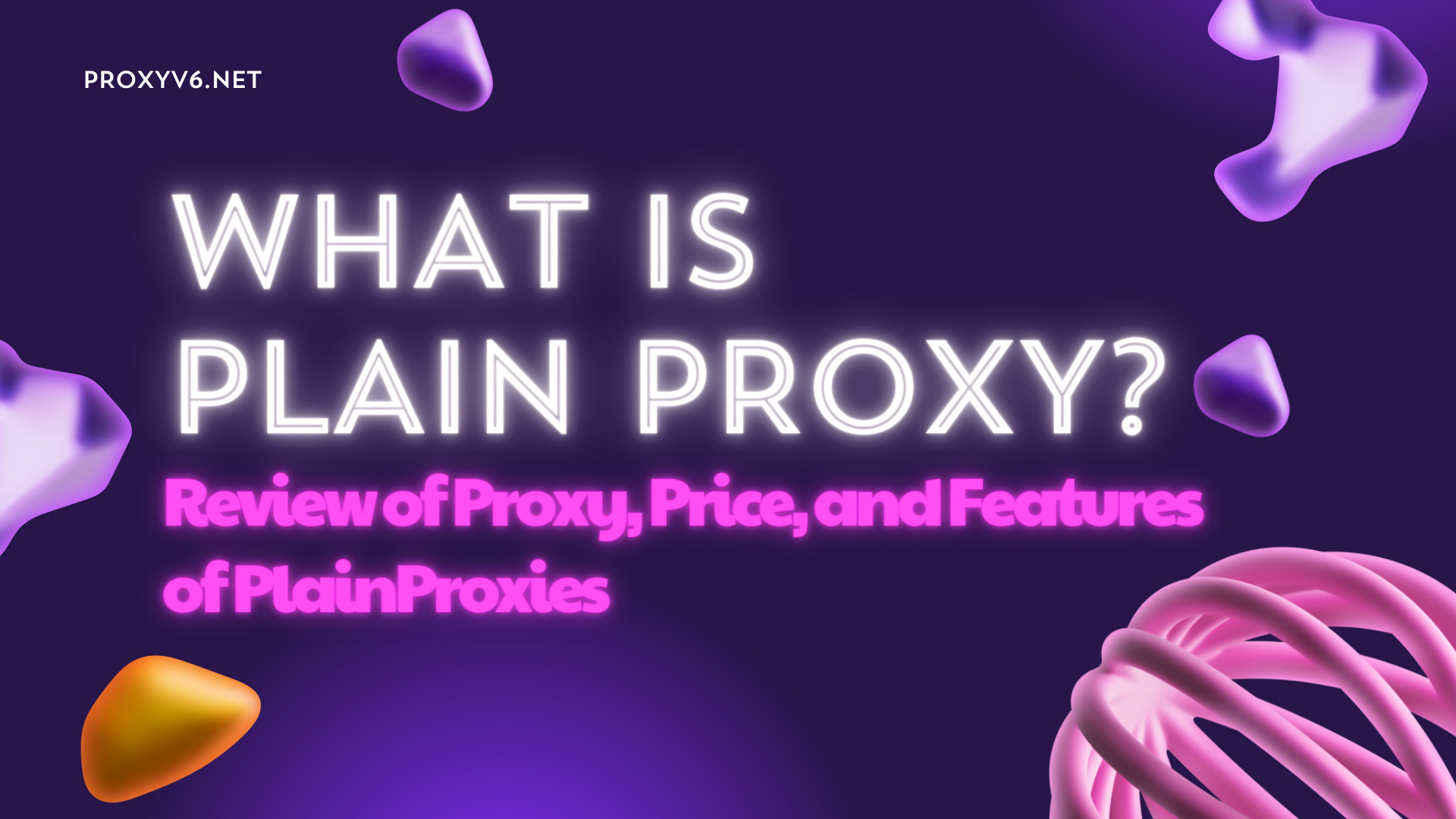 Proxy Services Available at Plain Proxy
Paid Proxy Services
Plain Proxy offers proxy rental services. According to the information available on their official website, they provide two main types of proxies: IPv4 proxies and IPv6 proxies.
IPv4 Proxy Service: This includes residential IPv4 proxies and data center IPv4 proxies. However, please note that the IPv4 proxy service is in the testing phase, and detailed information and pricing for this service have not been officially disclosed.

IPv6 Proxy Service: Currently, Plain Proxies provides pricing information for residential IPv6 proxy packages. Data center IPv6 proxies are also under development, similar to the IPv4 proxies.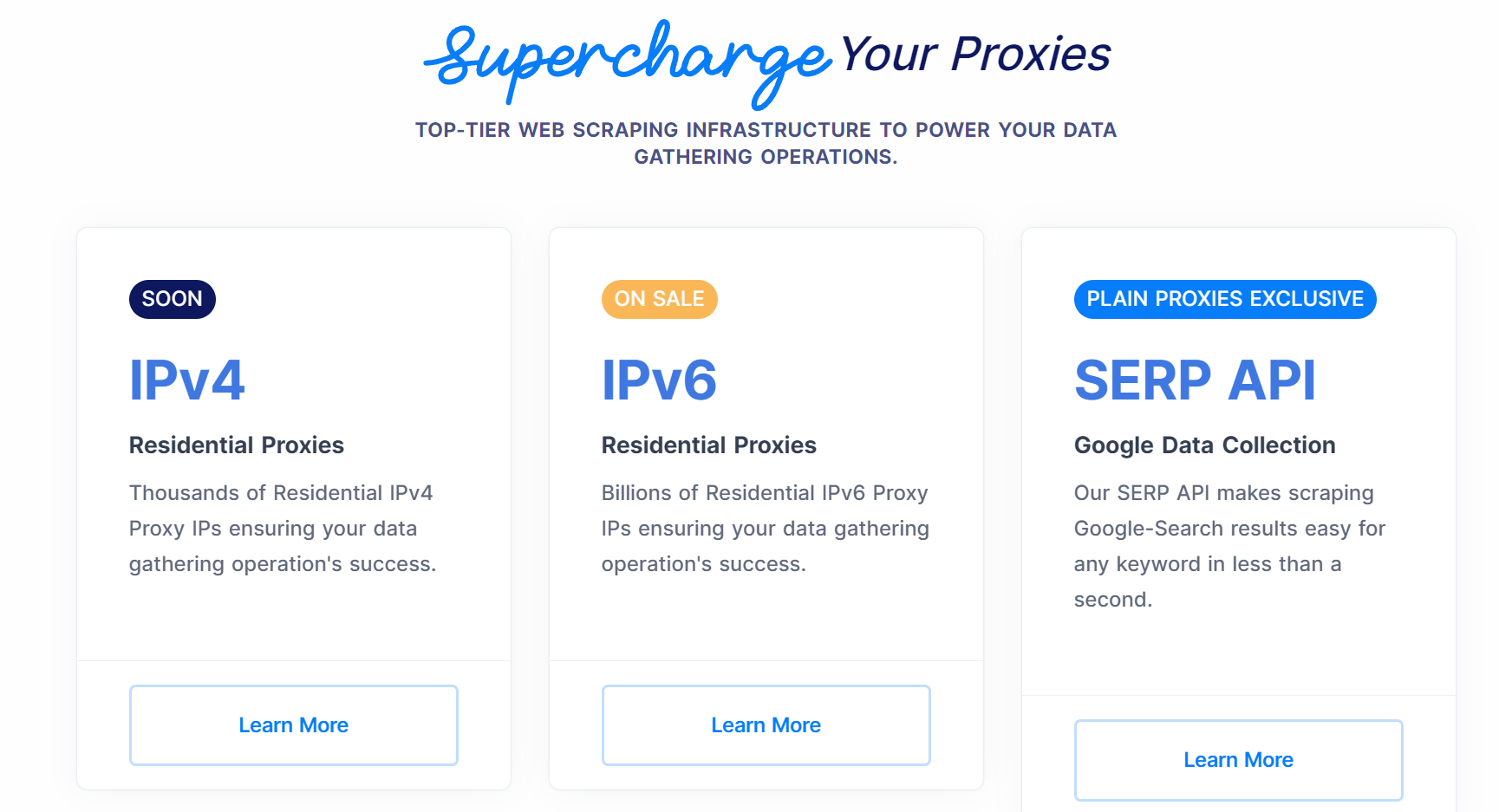 Free Web Proxy Service
In addition to paid proxy services, "Plain Proxies" also offers a free web proxy service. This service acts as an intermediary server between your device and the target server.
When you send a request from your computer to the target server, it first goes through the proxy server. The proxy server then forwards the request to the target server, and the response from the target server is sent back to the proxy server before reaching your computer.
The main purpose of a web proxy is to act as a barrier between your device and the internet. It allows tasks like caching, filtering, and anonymity.
Pricing for Plain Proxy Proxy Service
Plain Proxy currently provides pricing for residential IPv6 proxy services. These proxies are simply IP addresses provided by Internet Service Providers (ISPs). They have geographic locations at the national or city level, making them ideal for effective public data collection.
All residential IPv6 proxies provided by Plain Proxy are rotating proxies, meaning they change IP addresses after a certain period. According to their announcement, their proxy supply sources are distributed across more than 100 different locations, all with real IP addresses and high connection speeds.
You can choose from three different time frames to purchase residential IPv6 proxies:
Weekly Package – Starter
With the lowest starting price, you will spend €29 per week for 250GB of bandwidth, approximately $30.77 per week (based on the exchange rate as of October 2023).
Monthly Package – Most Common
This is the most popular Plain Proxy service package. By spending €99 per month, you'll get 1TB of bandwidth, significantly more than the weekly package.
Yearly Package – Professional
 If you're looking for a long-term commitment to this proxy platform, choosing the annual package is suitable. You'll have to pay €999 for one year of proxy usage. With this package, 10TB of bandwidth is the biggest advantage to consider.
Custom Package – Business
For larger business projects with high or unlimited bandwidth requirements, you can opt for a Business Plan. However, to subscribe to this plan, please contact Plain Proxy directly for a personalized quote.

What is Plain Proxy? Review of Proxy, Price, and Features of PlainProxies
Notable Advantages of Plain Proxy
High Connection Speed
Plain Proxy stands out with its high connection speed, allowing users to access the internet smoothly and stably. This makes the service suitable for tasks that require fast and stable connections, such as online data collection.
Stable Web Access Speed
Not only does Plain Proxy offer high connection speed, but it is also known for its stable web access speed. This ensures that your online activities, such as website access, video viewing, or file downloading, proceed smoothly without interruptions.
Detailed Contact Information
Plain Proxy provides detailed office contact information, allowing customers to interact directly and provide feedback. This demonstrates transparency and trustworthiness in their service. You can send feedback directly to the following address:
Company Name: 3xK Tech GmbH

Office Address: Altenhofer Weg 21, 16244 Schorfheide, Germany
GDPR Compliance
This service commits to complying with the General Data Protection Regulation (GDPR), ensuring that the processing of user personal data follows security and privacy regulations.
Server Location Selection
Although Plain Proxy's official website may not provide specific information about countries or locations, customers who purchase the service have the ability to choose server locations from over 100 proxy servers. This allows them to customize connection locations based on their specific needs.
Free Trial
A noteworthy advantage of Plain Proxy is that they offer a free trial session. This allows users to experience the service before committing to a purchase. This helps ensure that the service meets their needs before making an investment.
Affordable Pricing
Plain Proxy offers affordable pricing, especially for residential IPv6 proxies. This pricing makes the service suitable for various projects and budgets.

What is Plain Proxy? Review of Proxy, Price, and Features of PlainProxies
Some Disadvantages of Plain Proxy
While Plain Proxy has many notable advantages, as mentioned above, there are also some drawbacks to consider:
No Refund Policy
Plain Proxy does not offer a refund policy for customers. This means that once you've purchased a proxy, you cannot cancel the transaction or receive a refund in case of dissatisfaction or no longer needing the service. The absence of a refund option can be a risk for users who may need flexibility or want to stop using the service.
Limited Proxy Services
Currently, Plain Proxy only provides residential IPv6 proxy services. There are no options for residential IPv4 proxies or data center IPv4 proxies, and these types of proxies are currently in testing or development.
Not Budget-Friendly Proxy Service
While the service's pricing is generally reasonable, it may not be considered a budget-friendly proxy service for some users. Additionally, the pricing provided by Plain Proxy does not include Value Added Tax (VAT), which can create an additional cost for users.
Choosing affordable proxies at proxyv6.net is an attractive option for those looking for budget-friendly proxy services. Proxyv6.net offers a range of IPv6 and IPv4 proxies at affordable prices, allowing you to save costs while still ensuring high-speed and stable connections. This service is especially suitable for projects that require multiple use cases on a limited budget. With proxyv6.net, you can take advantage of the provided proxies to efficiently carry out online activities without spending too much money.