In today's digital world, protecting privacy and accessing websites anonymously is a top priority for many. This has led to the emergence of proxies as a solution to hide your actual IP address and simulate another IP address from a different location globally. However, not all proxy services are created equal. Among them, "Fake Proxy" is becoming a familiar concept, but you may not fully understand it.
Introduction to Fake Proxy
Fake Proxy, as the name suggests, are fake proxy services that don't actually provide real anonymous IP addresses for users. This not only wastes time and money but also puts users at risk of exposing personal information or being tracked.
Several reasons make Fake Proxy popular in the market, mainly user ignorance and aggressive advertising from unscrupulous providers. They often promise the best anonymous web access experience, high speed, and low cost. However, the reality is often not so.
The dangers of Fake Proxy lie not just in failing to provide the advertised service. When using these services, you may expose yourself to being tracked by third parties, revealing sensitive information, and even contracting malicious software. This is especially dangerous if you use proxies to access finance-related websites, online shopping, or other important tasks.
So how to avoid Fake Proxy? Firstly, always research and read reviews from trustworthy sources before choosing a proxy service. Tech websites often provide detailed reviews and user comments on various proxy services in the market. This gives you an overview and keeps you away from unreliable services.
Moreover, if a proxy service advertises itself as "free" without any other source of revenue, it might be a red flag. Quality services usually require costs to maintain, and if a free service doesn't earn money from you through service fees, they might earn from you in other ways, like selling your data.
Buy cheap Proxy at Proxyv4.net
Notable Features of Fake Proxy
Ability to Masquerade
A fake proxy can pretend to be a real proxy service, with a professional user interface and advertised attractive features.
Data Collection
The main purpose of some fake proxies is to collect user data, such as login information, browsing history, or even payment information.
Malware Distribution
Some fake proxies may be used to send malware to users' computers or devices.
Advertisements and Pop-ups
Some fake proxies might insert ads or pop-ups into the user's browser.
Poor Performance
In cases where the fake proxy does redirect network traffic, its performance is often inferior to that of real proxies.
Non-compliance with Anonymity
While some fake proxies may claim to protect users' privacy and identity, they often do not live up to this promise and may even report users' activities to third parties.
Bandwidth Limitations
At times, a fake proxy might limit bandwidth or connection speed, resulting in a sluggish web browsing experience.
Lack of Support
Fake proxy services usually don't offer genuine user support or only provide fake support that isn't helpful.
Potential Legal Risks
Using a fake proxy can put users in undesired legal situations, especially if the service violates intellectual property rights or disseminates illegal content.
Detection and Blocking
Since they don't comply with security standards and protocols, fake proxies are often easily detected and blocked by online services and security applications.
Quick Guide to Faking IP with Proxy on PC
Step 1: Find Proxy IP Address
The first thing you need to do is search for your proxy IP address and follow the instructions in the image below. Enter "Proxy" in the search bar and then open "Proxy settings".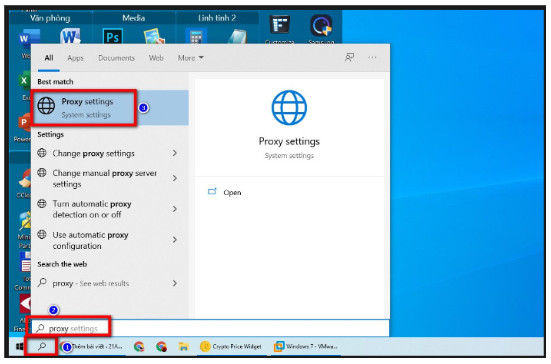 Step 2: Set up IP Address
Next, slide from left to right to turn on "Use a Proxy server," then input the IP address into the "port" section. Continue by clicking on "Save" to store your address.
Buy Affordable Proxy at Proxyv6.net
When you're looking for a safe and effective solution for anonymous web browsing, Proxyv6.net is an unmissable choice. With high-quality proxy services, Proxyv6.net proudly offers a smooth, fast, and absolutely secure web browsing experience. Especially, with affordable prices and regular promotions, you can easily buy cheap proxies while still ensuring quality here. Visit Proxyv6.net today to explore the best offers and enhance your web browsing experience!